Interested in the highlights of the Anderson Silva vs Forrest Griffin fight? The answers are easy.
1. Silva dominating the ring. Silva controlled the ring, he made Griffin look off balance and awkward. Griffin was never able to get Silva into any position to deliver his famous leg kicks, like he used to destroy Rampage. Silva's head movement and body movements along with his great jabs and devastating punches caused Griffin to constantly lots of poor shots and take too many chances that wound up costing him dearly.
2 Silva's pounding Griffin on the ground. There was only one take down in the fight and Silva did it with a punch and followed it up with some devastating punches to Griffin's head. I think these shots definitely hurt Griffin and that allowed the Flicking punch to finish him off.
3. The deadly Flicking punch. Only used effectively one other time in a World Championship match, by Ali vs Liston. Just as ridiculous and just as controversial. 40 years later people are still talking about the Ali flick and there are 1,000's who believe Liston threw the fight. I am one of them. The same can almost be said about Griffin, I don't think for a minute he threw the fight, but I do think he wanted it over. He was getting killed and wanted out. If his jaw was broken, as some claim, but not any doctors who attended him, then he has a great reason to lie there and quit. Otherwise, I would like to have seen him do a little bit more, before the flick. Not after. He was in not condition to continue for whatever reason after he was flicked.'
4. The Griffin run away. If Griffin would have run as fast in the ring as he did out of the ring he might have stood a better chance of beating Silva. Can't wait until he finally tells everyone what was so important in the locker room that he could not't wait to even shake hands or hear the decision. Might have been a call from Brock Lesnar telling all you great commenter's how wrong you are in think that Silva is better than the Mighty Lesnar. Or perhaps it was a call from Fedor inviting Griffin to come to Strikeforce where there is no real competiton and no Brock.
Too many sites that provide a Free Watch UFC 101 Live Streaming But sometimes the video was not good or bad in quality and the server might be down. Now  After
UFC 101 has been held on Saturday, August 8th, live on Pay-Per-View from the Wachovia Center in Philadelphia, Pennsylvania, You can still watch 
UFC 101 Video Replay on this link i provided below.
Taken from:
http://www.fun345.com/sports-news/ufc-101-video-replay.html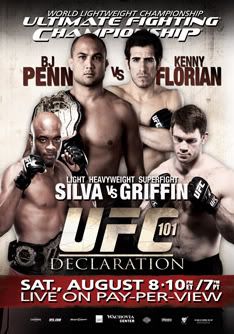 With the recent pay-per-view and ticket sales success of UFC 100, the Ultimate Fighting Championship (UFC) organization looks to continue its onslaught in the mixed-martial arts (MMA) circle with UFC 101: Declaration.
The show is scheduled for August 8, 2009 (August 9, Sunday here in the Philippines) at the Wachovia Center in Philadelphia, Pennsylvania, USA.
The main event will feature B.J. Penn defending his lightweight championship belt against Kenny Florian. Penn is currently ranked by Sherdog as the #1 Lightweight fighter in the world and by MMAWeekly as the #3 lightweight fighter in the world. On the other hand, Florian is the the #1 contender for the Lightweight Championship.
The co-main event will feature a non-title light-heavyweight bout between Anderson Silva and Forrest Griffin. Silva is the current UFC Middleweight Champion and holds the record for the longest winning streak of 9 straight wins in the UFC. He moves up to light heavyweight in this bout. On the other hand, Griffin is the former UFC Light Heavyweight Champion. He is currently ranked as the #4 light heavyweight fighter in the world by Sherdog, and #3 by MMAWeekly.
Other cards for the event are as follows:
Main Cards (to be shown on TV)
Welterweight bout: Amir Sadollah vs Johny Hendricks
Middleweight bout: Kendall Grove vs Ricardo Almeida
Lightweight bout: Josh Neer vs Kurt Pellegrino
Preliminary Cards (not to be shown on TV)
Lightweight bout: Shane Nelson vs Aaron Riley
Welterweight bout: Tamdan McCrory vs John Howard
Middleweight bout: Thales Leites vs Alessio Sakara
Welterweight bout: Matt Riddle vs Dan Cramer
Lightweight bout: George Sotiropoulos vs George Roop
Welterweight bout: Jesse Lennox vs Danillo Villefort
Where do I watch UFC 101?
If you have the money, you can watch it LIVE via pay-per-view on Saturday, August 8 – 7PM PT / 10PM ET / 3AM BST through Yahoo! Sports or at the UFC 101 web site. Charge starts at $44.95.
Here in the Philippines, Solar Sports has been known to broadcast UFC fights LIVE but apparently, they're not doing it anymore. Balls Channel will be broadcasting UFC 101 LIVE on Sunday, August 9 at 10:00 AM. Studio 23 will have a REPLAY at 10:30 PM. But our Sky Cable here don't have that channel so I looked for sites that offer UFC 101 live streaming online free.
Where do I watch UFC 100 live streaming online free?
UFC 101: Declaration has already started. These are the FREE online streaming videos. Just select from any of them. I suggest that you use low quality resolution if you have a slow internet connection. If they won't play due to the sheer number of users watching the UFC 101 streaming videos, don't worry, I'll constantly update this and look for ONLINE ones for your viewing pleasure. Please bear with me.
Taken from: